Make Sure Your Summer Plans Include Putt it Into the Park!
The Chamber's mid-summer event, Putt it Into the Park, is the perfect event for clients, employees, friends, and family! Taking place on Thursday, July 18th starting at 3:30 pm on City Island, this affordable event mixes two of summer's favorite pastimes. Start at the 18-hole Miniature Golf Course located along the Susquehanna River at Water Golf on City Island. After a game of Mini Golf, attendees then move to a picnic dinner buffet at the Harrisburg Senators Ballpark while enjoying the Harrisburg Senators taking on the Portland Sea Dogs. As an added bonus, Thirsty Thursday is from 6:00 – 8:00 pm and make sure you stick around after the game for the Human Cannonball!
The cost to attend is $25/ages 13 & older; $20/ages 4-12; and Free/ages 3 & under. Registration includes parking on City Island, 18 holes of miniature golf, picnic dinner buffet, and a Senators baseball game.
Schedule of Events
3:30 – 6:00 p.m                     Miniature Golf Available
6:00 p.m                                 Baseball Gates Open
6:00 – 7:30 p.m.                    Picnic Buffet Available
7:00 p.m.                                Senators Baseball Game Starts
You will be able to choose your mini golf time to reduce your wait. Timeslots available – 3:30pm, 4:00pm, 4:30pm, 5:00pm, 5:30pm, or 6:00pm. Don't miss out on this fun filled event, register here!
Event is Partnered With: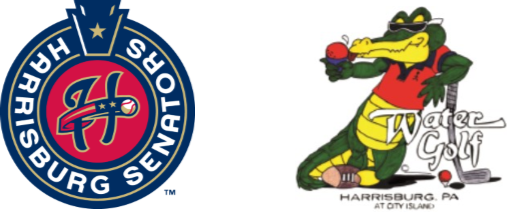 Thank you to our Sponsors:
MAIN EVENT SPONSOR
Orrstown Bank
SILVER SPONSORS
H.B. McClure
James B Murdoch Insurance Group
Jones Financial Group
BRONZE SPONSORS
Jameson Stone, LLC
Prudential Advisors