Annual Meeting & Dinner Recap
Our Annual Meeting & Dinner was held on Tuesday, December 3rd at the Radisson Hotel Harrisburg. Our members gathered together to celebrate another year of inspiring business. As YOUR Chamber we look to you our members to let us know what the community needs and how we can help. At this event we heard from our Chairman of the Board, Sam Jones; elected our new directors; announced next year's Business & Industry Night theme and recognized four leaders from our Chamber for their contributions to business and our communities.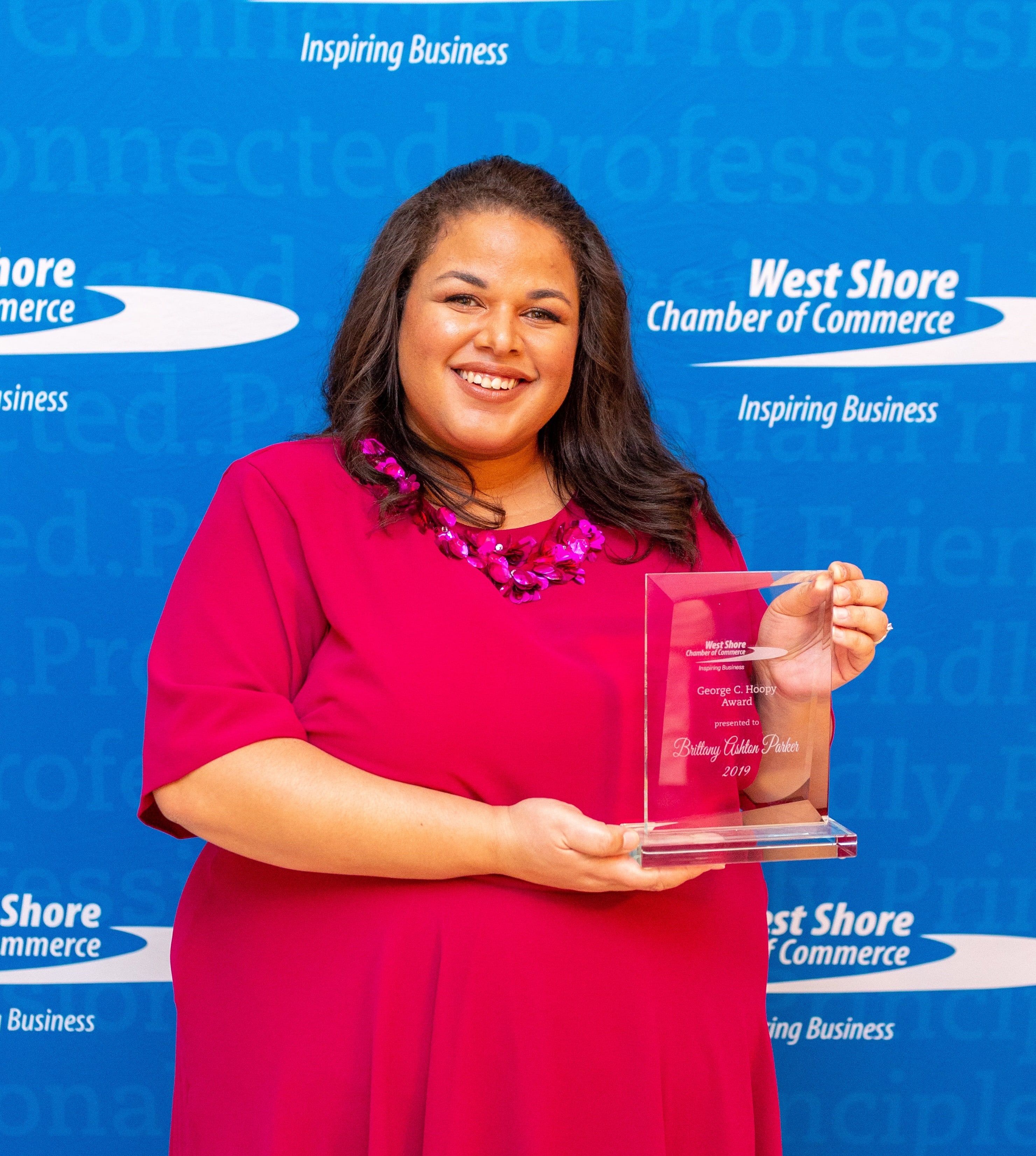 Brit Parker of AmeriChoice Federal Credit Union who received the George C. Hoopy Award due to her commitment to the West Shore Chamber of Commerce through committee activity, attendance at Chamber functions and promotion of the Chamber through her years of involvement. Brit Parker is a Lancaster City native who moved to Harrisburg almost five years ago. As the Business Development Specialist at AmeriChoice Federal Credit Union, she uses her love for people and passion for the community to create meaningful relationships and is lucky to get to call it "work." Through teaching award-winning financial literacy for AmeriChoice, Brit noticed an extreme lack of diversity and inclusion education and practices in the West Shore community. With the support of the Chamber, Brit was able to form a D&I committee to discuss specific topics and help educate others within the business community, promoting conversation and celebration of what makes unique differences great! In addition to being a member of the Chamber's Membership Committee, Brit is also a member of the West Shore Young Professionals, Diversity and Inclusion Professionals of Central PA, and is a former board member of the Women's Capital Area Networking (WeCAN) and Medard's House. She lives in Camp Hill with her husband, Ryan, who she thanks for being her number one fan and cheerleader.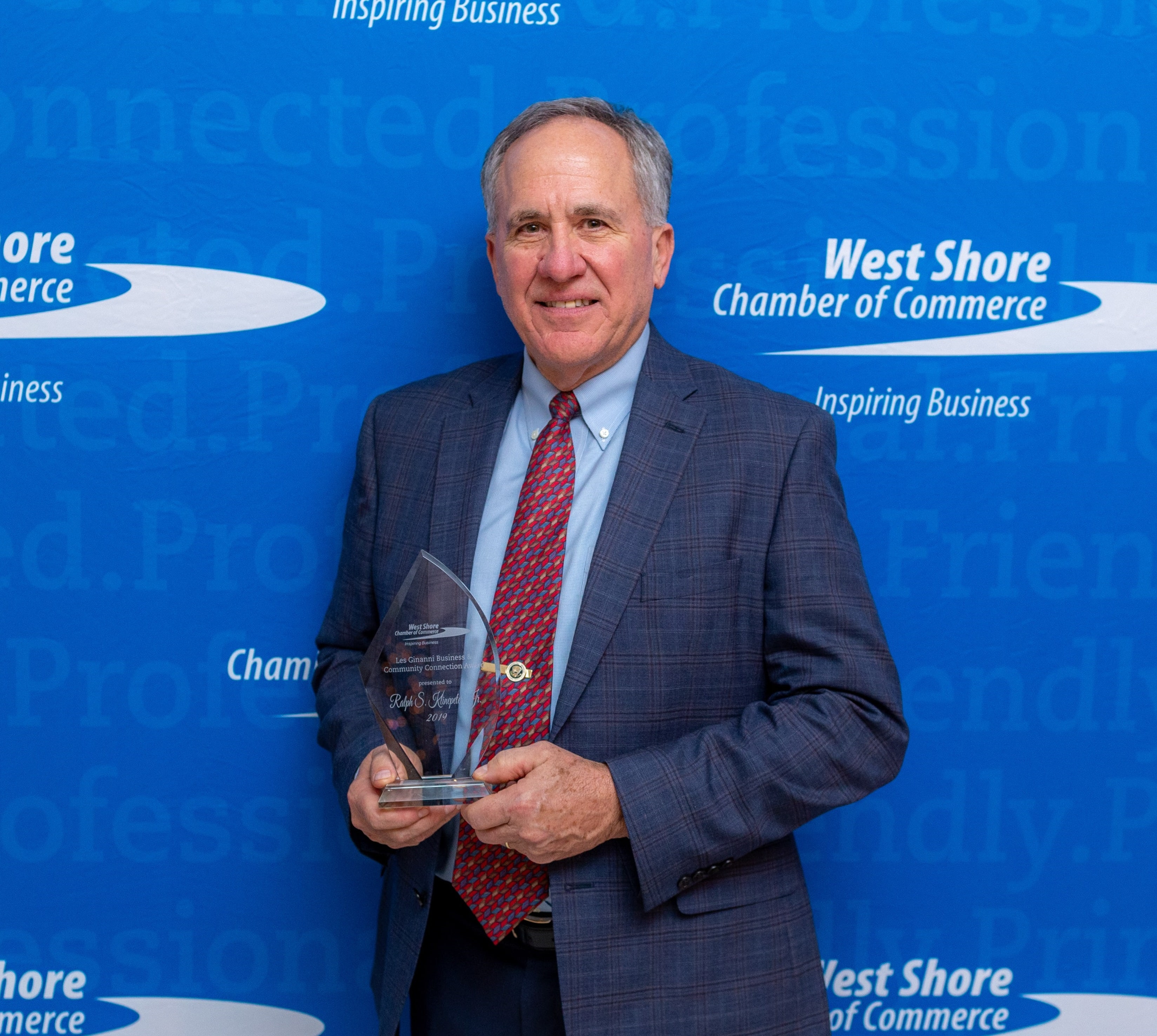 Ralph S. Klinepeter of Pyramid Construction Services Inc. received the Les Ginanni Business & Community Connection Award due to his continuous community contributions through his business and on a personal level. His construction career has spanned over 43 years, starting in 1976 as a Project Engineer for H. B. Alexander & Son, Inc., a large regional contracting firm in Harrisburg, Pennsylvania. Under the leadership of Bill Alexander, Ralph quickly embraced the importance of giving back to the community that it serves.  In 1997, Ralph founded Pyramid Construction Services, Inc., which has perpetuated his commitment of community involvement as evidenced by its partnerships with community organizations such as the Bethesda Mission, The Salvation Army, Harrisburg Area YMCA, Ronald McDonald House, Hospice of Central PA, United Way, and the Boy Scouts of America to name a few. In addition to the aforementioned charitable organizations, Pyramid has also been active contributors to many other business and community endeavors which help promote doing business in Central PA, such as West Shore & Harrisburg Chambers of Commerce, CAEDC, and the ACE Mentor program. Ralph is a graduate of Camp Hill High School, Lafayette College (undergraduate degree), and Penn State University (graduate degree).  Ralph and his amazing wife of 44 years, Kim, reside in Mechanicsburg, Pennsylvania and are the proud parents of three sons Mike, Matt, and Ryan and four grandchildren.   In his spare time, Ralph enjoys time with his family, a competitive round of golf, spending time at his cabin, and following his college catcher manage the LA Angels.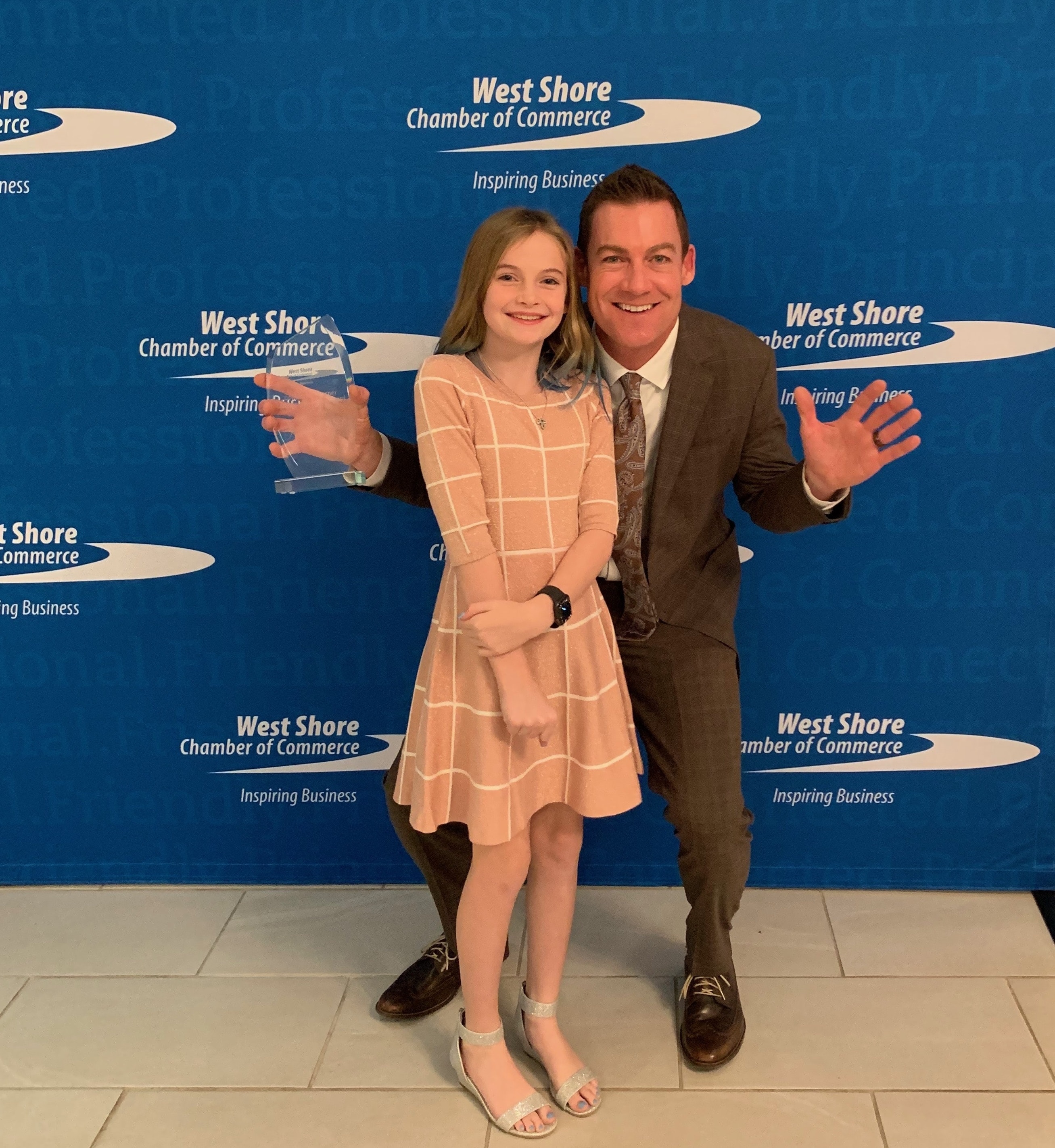 Jim Carchidi of JFC Staffing Companies received the Edward M. Messner Inspiring Business Award due to his continuous inspiration for business interaction and growth. As CEO a.k.a. Chief Enthusiasm Officer of the JFC Staffing Companies, a recipient of the Central Penn Business Journal's Forty Under 40 award, a past finalist for two Entrepreneur of the Year awards. An avid student in the fields of neuroscience, leadership, organizational development and psychology; James wants to inspire the world to generate greater mental effectiveness so that people can realize more of their potential on both a professional and personal level. Jim will tell you that his company exists to serve others and to positively impact their lives. Many have argued, "You can serve all you want but that soft stuff doesn't make you money, and if you don't make a profit you'll go out of business, then you won't be serving anyone."   His reply is always the same: we also need air, water, and food to survive; but the purpose of life is not to just breathe, drink, and eat. Who does James serve?  His fellow JFCrs!  He tells them all the time "you are my #1 customer". He believes that when they are cared for, they are engaged and when they are engaged so too are their external customers. Recruiting may be JFC's industry, but delivering positive experiences while impacting lives is definitely their business!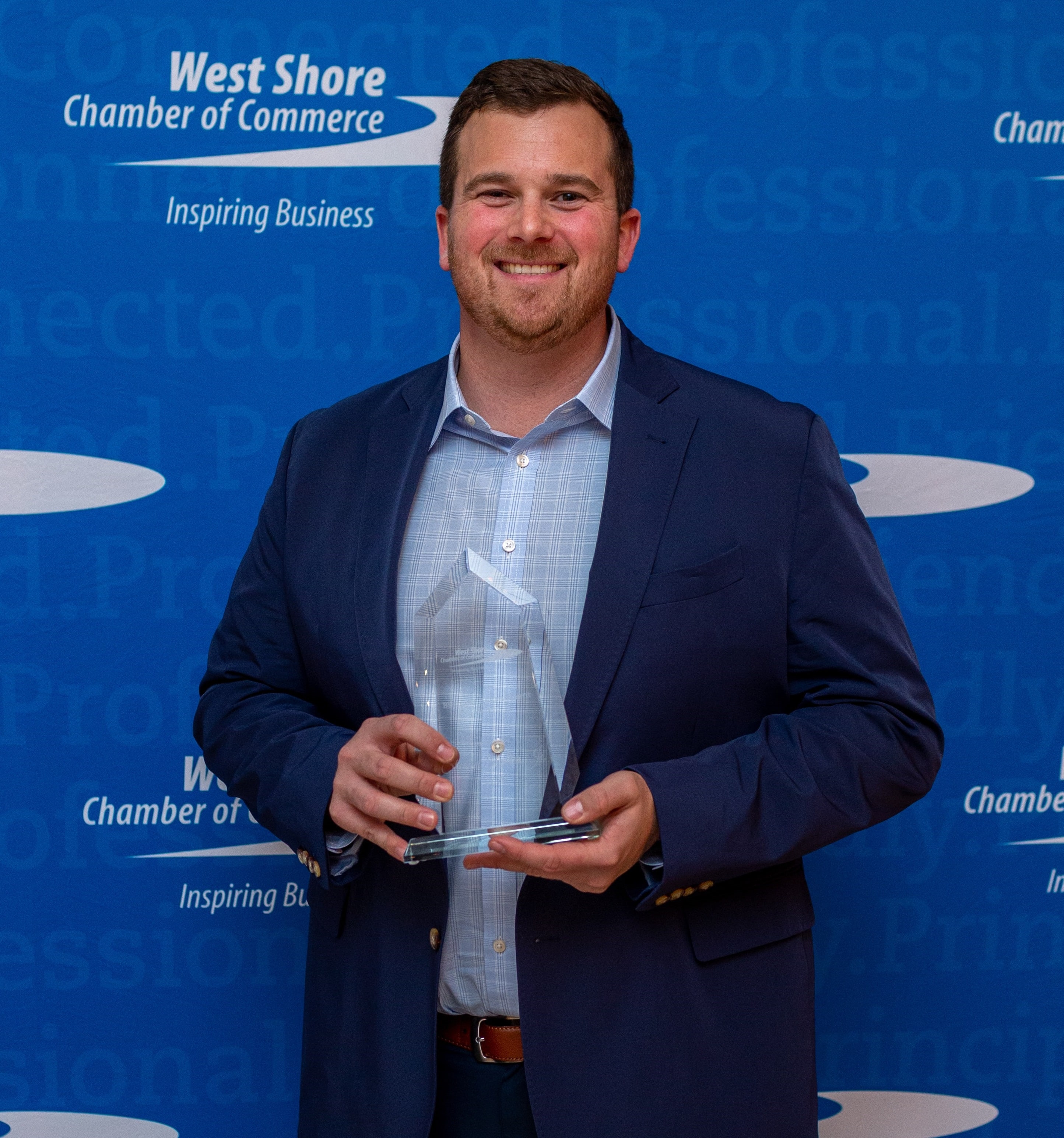 Stephen Kindler, Jr. of National Fitness Partners/Planet Fitness received the Business Achievement Award due to his successful enterprise and his creation of jobs, products, and opportunities. Stephen is an 11-year fitness industry veteran who began his work inside health clubs as a young boy inside of his family-owned West Shore Health Club located in Camp Hill, PA. Stephen currently serves as the President & CEO of National Fitness Partners which is a private-equity held Planet Fitness franchisee group based in Camp Hill. National Fitness Partners currently operates 73 locations in PA, DE, NC, and SC and has development rights for more than 40 additional locations within their trade areas. Stephen began his career as a front desk customer service team member, quickly became a store General Manager in 2009 and was elevated to a Regional Manager in 2012. Stephen helped grow the PF Central PA footprint from 5 stores to 10 stores between 2009 and 2016. In 2016 Stephen played an integral role in the sale of his family business to Argonne Capital group and was elevated into the VP of Operations role where he had direct oversight of the company operations. In August of 2017, Stephen was named the President & CEO and has helped grow National Fitness Partners from a 24-unit operator to the current 73 that is under management, making it one of the largest Planet Fitness franchisee groups. Stephen has vast M&A experience, having closed on four separate acquisition transactions and continues to help drive business development, revenue growth, profitability, and company culture.
Congratulations to this year's award recipients of our four Annual Meeting Awards!
The following members were elected as new directors to the Board at the meeting. Their term will begin in January and end on December 31, 2022:
Andrea Dietz, Urology of Central Pennsylvania
Brian Engle, RETTEW
Gretchen Ramsey, Geisinger Holy Spirit
Erin Schutter, Gunn-Mowery LLC
Lynn Stickler, Members 1st Federal Credit Union
Ethan Stone, Jameson Stone LLC
Stephen Wilt, Alexander Building Construction Company
We are excited to announce that our theme for the 2020 Business & Industry Night is "The 70's" to coincide with our celebration of the events 70th Anniversary!
If you are interested in viewing more photos from the event you can check out the album on our Facebook page here: http://bit.ly/36QwLq2. Thank you to Ashley Kemmer Photography for taking the photos at our event. This event was made possible and a huge thank you needs to go out to the following sponsors: Highmark Blue Shield, Klock Entertainment, Members 1st Federal Credit Union and UPMC Pinnacle.